Your router connects your office to the whole wide world, so make sure it's protecting you.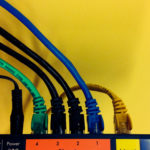 When there's no trouble connecting, you probably don't think much about your Internet router. But we at Codestar think about it a lot, because routers can let in hackers. Follow these steps to reduce your risk.
Change default credentials
Be sure your router administrative software doesn't still have the default login name or password. As mentioned in our last issue of Computer User Security Tips, bad actors can look these up on the Internet and access your network. And if you have a wifi signal, it should — of course! — require users to enter a password.
Separate the guest wifi
If your router doesn't offer some form of isolation, consider getting a different router so staff and guest use can be separated. If practical, make guest wifi password protected as well.
Apply firmware updates
Make sure your router has the most recent updates to ensure you've got the newest security patches. Firmware upgrades aren't well-advertised by router manufacturers, so you may need to do some research or get help with this.
When to replace your modem
If you have an older modem, firmware upgrades to address the latest security issues might not be available. In this case, you may need to replace the modem to comply with HIPAA, FERPA, NIST, or other data security rules that apply to your business.
New life for an older modem
Ask an IT provider who specializes in security if your old modem can run on Open Source firmware. This is one of our favorite security fixes, because (1) the Open Source solution is continuously updated to address security issues, (2) it includes a robust application that lets us monitor the customer's firewall for intrusions, and (3) the firmware is free.
And if it turns out that you really must buy a new modem, you can benefit from finding one that's compatible with Free and Open Source firmware to boost functionality and lifespan.